Literati observe National Sadi Day in Shiraz
Published: April 24, 2017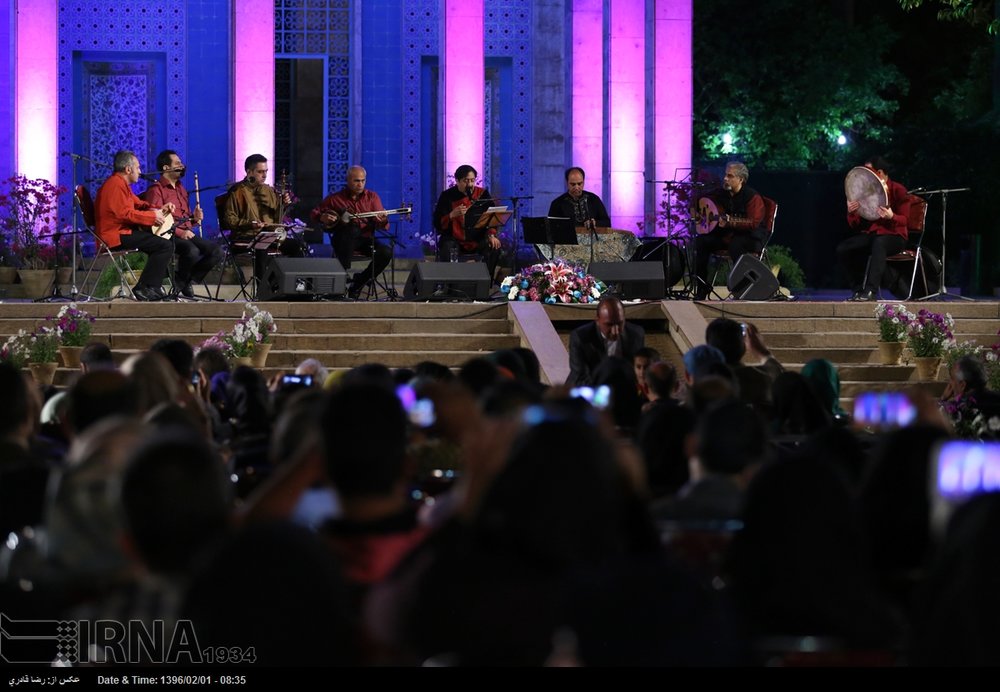 A large number of Iranian literati and aficionados of Persian literature came together at the mausoleum of Persian poet Sadi in Shiraz on Thursday to celebrate National Sadi Day.
Some cultural officials, including Minister of Culture and Islamic Guidance Reza Salehi-Amiri, also attended the celebration, which was held on the eve National Sadi Day.
Performing songs from Sadi by vocalist Hesameddin Seraj and his band was part of the celebration, which also continued with a speech by Salehi-Amiri.
He called Sadi and Persian poets Hafez and Ferdowsi the fundamental identities of Iran and said, "This land has hidden many words in its heart."
"Its secrets and mysteries can be found in the time of Sadi and Hafez. This land is part of our national and Islamic identity, and honoring the great literati of this land is also part of our identity."
Asghar Daadbeh, an expert on Sadi, also delivered a lecture at the ceremony.
He said, "Our language is the language of Sadi, and this is the greatest service rendered by this great man.
He warned about threats against the Persian language and asked the Iranian people to keep their children in touch with Sadi's works in order to fight against these threats.
The organizers also honored literati Zia Movahhed, Jafar Moayyed Shirazi, and Asghar Daadbeh as well as veteran calligrapher Yadollah Kaboli Khansari for their works on Sadi.
One of the greatest figures of classical Persian literature, Sheikh Muslih od-Din Sadi Shirazi (C. 1213-1291) is famous worldwide for his Bustan (The Orchard) and Gulistan (The Rose Garden).
/ Tehran times /