Tehran Book Garden Ready
Published: April 13, 2016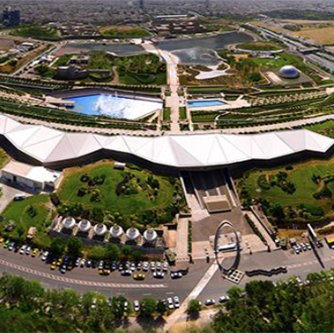 With the construction phase over, the Tehran Book Garden is ready to be stacked with books; however, as publishers are busy preparing for the 29th Tehran International Book Fair (TIBF), May 5-15, the books will be supplied later.
Announcing this on Sunday, Majid Hosseini, director-general of Nashr-e-Shahr (City Publication) Institute, which is in charge of the project, said that although the Book Garden was to open in May, its inauguration has been postponed to a later date, yet to be announced, due to the launching of the Sun City Exhibition Complex, coinciding with the opening of the annual boo fair, IRNA quoted him as saying.
The Book Garden was one of the options to host the TIBF but ultimately officials opted for Sun City. Nevertheless, unlike the rather far location of Sun City, on Tehran-Qom Highway, near Imam Khomeini International Airport in the south of Tehran, the Book Garden is easier to access as it is located in Abasabad Hills in north-central Tehran.
Furthermore, covering a total area of 65,000-square-meter indoor exhibition space, one of the largest of its kind, it will run around the year, providing ample space and amenities to help promote book reading.
The vast collection of books will be suitable for people of any status and age. Special areas will cater to the needs of children and adolescents.
In addition, there are two amphitheaters to host theatrical performances and four research departments where university teachers can hold study sessions with students.
Other features include a book therapy clinic, sections for stationeries, multimedia products and e-books, and six assembly halls.
Children's Section
A separate section is dedicated to children and young adults which besides presenting books suitable for their age, will provide them with a large number of activities to keep them entertained while parents visit the other parts of the exhibition.
Special events such as commemorating birth anniversaries of prominent poets and writers will also be organized to promote authors and their works.
The open grounds surrounding the buildings, covering 45,000 square meters, includes an artificial lake, a restaurant and a coffee shop. A parking area for up to 5,000 cars is being planned for the new venue.
Tehran Book Garden is located on Haqqani Highway, adjacent to the National Library and Archives Organization of Iran (NLAI).
It is part of Abasabad Cultural Complex which also includes Nature Bridge, Flag Tower, Gonbad Mina (Enamel Dome) Planetarium, Art Garden, Sacred Defense Garden Museum and Flower Garden.
/financialtribune.com/